These are the bags I have been known to sew.
(See photos of weird one-off bags in the archive.)

[] The 15incher see


15x12", 13x4" bottom.



[] The 19incher see


19x12", 13x6" bottom.



Features on most bags:

>One-piece floating liner: The liner, attached only at the top edge, is suspended
inside the shell. This means you can pull it away from the shell as you would the pocket of your jeans.
This sharply reduces the likeliness of rainy seam leakage. And since it's one piece, there're fewer seams.

>Removable padded back/magazine pocket: Nice things to have, especially if you carry hard, sharp things
... and magazines. Or want something to sit on.

>Split strap: AKA a breakable strap (AKA, it has a buckle). This allows you to take a heavy bag off fast without lifting it
over your head. Especially nice if you're wearing a helmet or bulky winterwear.
This strap also allows for easy one-handed adjustment on the bike.

>Fleece-lined integrated shoulder pad: The fleece lies more smoothly against your shoulder than other materials,
minimizing wrinkle pressure points. It's also fairly non-slip, which helps the bag stay put.
And the shoulder strap will never slide in the pad 'cause they're attached.

>Zipper pocket: A lot of bagmakers [when I was writing this] don't put zippered pockets in their bags 'cause it's too much work,
or they say they'll rust. Leif bags come with strong plastic-toothed YKK zippers. Zip pockets are the best
pockets for your small important things.

>Cross strap: A stabilizer strap (not to be confused with an x-strap). Also called a no-sway strap.
This keeps your bag where you want it -- on your back. And Leif bags come with an outta-the-way buckle for
when you're not using your cross strap. If your bag doesn't have a cross strap, it's not a bike bag (or it's a backpack).

>Expandable main compartment: There're two compression straps on the front of the bag that cinch it closed
when it's empty, and open it up when it's full.
This allows the bag to stay in a comfortable shape when carrying full loads. It also means it's easier to get in
and out of your bag when your're wearing it, since the shoulder strap isn't pulling it shut.

[] The 22incher see


22x14", 15x7" bottom. Reerar.





[] The 24incher see


24x14", 17x7" bottom. 18x9" bottom on OS version (pictured).

[] Hip Pouch! see


9x5x2"

[] Wallet! see



[] Tool Pouch! see

[] Backpack! see see



[] Pannier see see

BAG SPEX

I've scoured the lands and seas for the choicest materials. Here's what I use for my bags:

[fabric]

The shell on most of my bags is made of 1000-denier Cordura nylon.

Most of the bags are lined with a marine-grade acrylic-coated polyester called Top Gun (no joke).
While not as water repellent as vinyl, it'll hold its own in torrential downpours ... which is water repellent
enough for me. And it's a lot lighter.

[webbing]

The shoulder strap webbing is real seat belt webbing.

The one-inch webbing is made of nylon.

Most of the bags' flaps are bound with a nylon mil-spec webbing.

All other edges are bound with nylon grosgrain.

[buckles]

All the plastic hardware is from Illinois Tool Works (ITW Nexus/Fastex), except for the
strap-end clips (from Duraflex), and the two-inch d-rings. They come from space,
I think.

[thread]

I use Coats Star Ultra Dee #92 polyester upholstery thread.

[shoulder pad]

3/8-inch or 1/2-inch closed-cell foam covered in nylon packcloth and type-100 fleece from Polartec.

[zippers]

YKK. Size 5 Vislon (molded teeth).


FAQ

Q. Why don't you use Velcro?
A. It's no good for sneaking snacks into the movies -- it's too loud.
Plus, Leif Labs is wool-friendly: "We're down with the fuzzy shit."

Q. What's a "floating liner"?
A. Something awesome that'll help keep your stuff dry.

Q. Do you do custom work?
A. Nope. There are plenty of companies that do, though. See the Links page.
Though, if you want me to point you towards someone who might do your bidding, throw
me an email and I'll try an' help.

Features! Pictures!
Here're some things that make Leif bags super nice.
Front zipper pocket with quad-stitch reinforcement.
Expandable! main compartment. With an outta-the-way buckle
for the stabilizer strap.
Adjustable strap pad with cross strap. Breakable main strap.
Strap close-up! With a D-ring to hold on to,
and a webbing clip to keep it out of the way.
Removable back pad. And, barely seen: a DVD-sized pocket
also on the inside.
Back pad pocket doubles as document pocket for all your flat things.
Also, small pockets in the front for pens & such.
Light loop, and D-rings for attaching things ... like ...
Magic silver tails!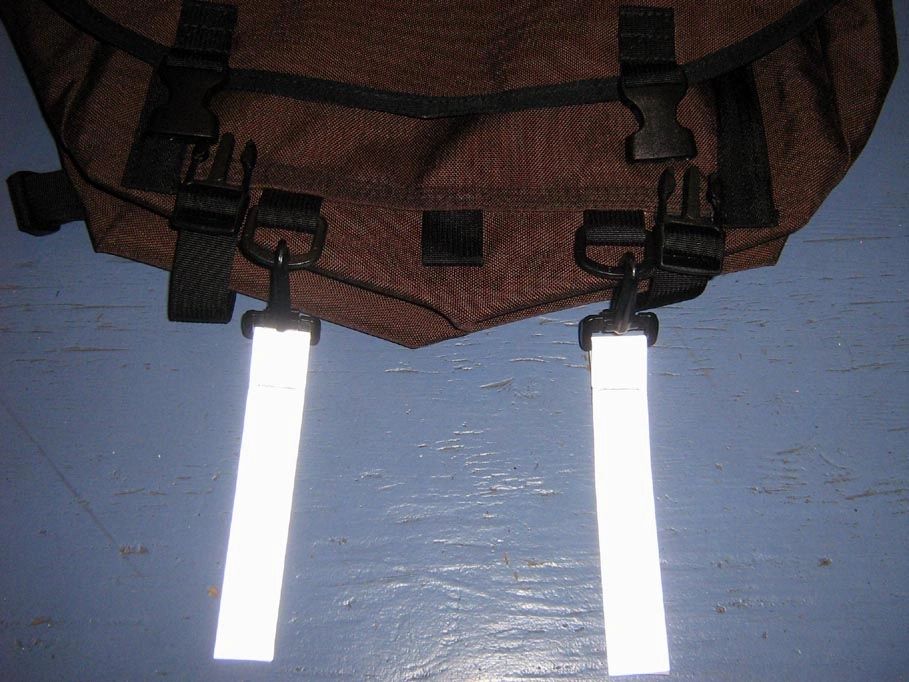 Yep.